Benefits
We don't stop with competitive salaries, interesting projects, a great work environment, and the best staff in the industry. Our impressive benefits package addresses your health, education, retirement, and paid time off.
Personal Leave Bank
Flexible Schedule
Holidays
401(k)
Medical
Vision
Dental
Life Insurance
Disability
Education
Training
Employee Assistance
Wellness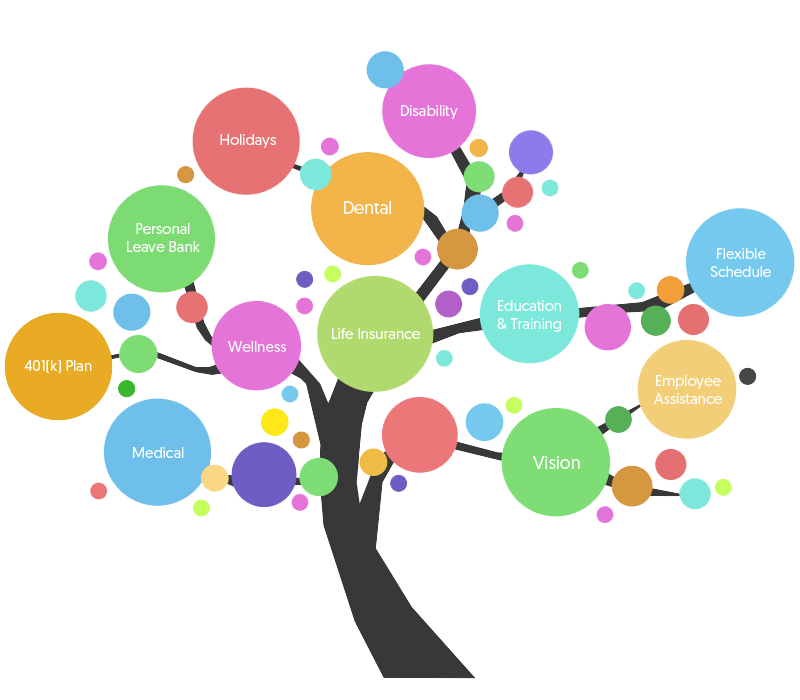 We offer the following:
Personal Leave Bank
Rather than restricting you to separate vacation and sick leave, our personal leave bank program gives you the flexibility to take the time you need for whatever reason.
Holidays
Paid Holidays are included from your very first day for eligible employees.
Medical
You have the choice of two medical plans.
Vision
A superb vision benefit that includes exams, frames, lenses, contacts, and surgery.
Flexible Schedule
For most positions, our standard work week is 4-1/2 days–9 hours Monday-Thursday and 4 hours on Friday. Flexible schedules are available with the permission of your supervisor.
401(k) Plan
Our generous corporate match is among the highest in the country. Period.
Life Insurance
Provided for eligible employees at no cost.
Disability
Paid Short-Term and Long-Term disability are offered to eligible employees at no cost.
We also provide these benefits:
Education and Training
We want you to advance and grow. Our training program helps you acquire new skills and further your education through on-site classes, outside training, conferences, and tuition reimbursement for college courses.
Employee Assistance
A free confidential counseling program offers licensed, experienced professionals to help solve problems of a personal or behavioral nature, whether work-related or not. No cost to the employee and immediate family members living in their household.
Wellness
Our goal is to help keep you healthy! This program offers free health screening, consultation with health professionals, classes on various topics such as diet, fitness, and stress, on-site chair massages, yoga classes and incentives for meeting your health-related goal.
Your Health and Well-Being are Important to Us!
At Bohannan Huston, it's all about living well. From the flexibility we provide, to the comprehensive benefits package we offer, we want you to have the time and the ability to enjoy all that life has to give.